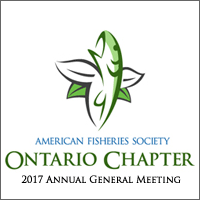 The countdown is on for the 2017 AFS-OC AGM at Geneva Park!
With just three weeks to go, we want to make sure that we have the best turnout possible. The roster for oral presentations is full, but we do still have room for additional posters. Contact Jessica Wright (president@afs-oc.org) if you wish to submit a poster.  With that said, we want to let you know about a few important items:
1) A Sneak Peek of our Program is now available!  We have some really interesting posters and over 20 presentations!  Check out the 2017 DRAFT Program as well as the 2017 AFS-OC AGM page for additional information.
2) The Keynote Speaker is Canadian Fisheries Legend Dr. John M. Casselman.  Dr. Casselman is an adjunct professor, Biology Department, Queen's University, Kingston, Ontario, and former senior scientist who supervised fisheries research on Lake Ontario for the Ontario Ministry of Natural Resources. John will be speaking about Fisheries Science as a Profession, and providing his Personal Reflections.
3) There are two Flash Travel Bursaries (one student and one professional).  See details below.
4) Early Bird Registration ends TODAY at midnight (Friday, February 10th). Visit the Online Store to register.
5) We are looking for nominations for the Outstanding Mentor Award! Every year the student subunit bestows the Outstanding Mentor Award to an exceptional mentor in fisheries, which may include academics, government and non-government employees. The award is chosen by the subunit based on nominations, which can be made by either students or young professionals. The award is given out every year at the AFS-OC Annual General Meeting, which is held this year from March 2-4 in Orillia. The OMA is a great opportunity to show your appreciation for a great mentor of yours. To nominate, please use the OMA Nomination Form and email to student-president@afs-oc.org.
————–
Flash Bursaries!!
Just in time for the 2017 AFS-OC AGM, your AFS-OC ExComm and Student Subunit are delighted to announce we will be sponsoring two (2) bursaries for travel and conference related activities for this meeting.  The details are as follows:
Up to $250 for one (1) Student or Young Professional AFS Ontario Chapter member
Up to $350 for one (1) Regular AFS Ontario Chapter member
To apply, please submit via email a brief bio and explanation of how these additional funds could help pay your way to Geneva Park (3-4 paragraphs sufficient).  All applications will be reviewed by the voting members of the AFS-Ontario ExComm/Student Sub-Unit and awarded based on need.
Please submit your application by email to the following address: president@afs-oc.org by February 24th, 2017.
We sincerely hope these bursaries make the difference for anyone wishing to attend this year's conference but is currently financially pushed to do so.
http://www.afs-oc.org/wp-content/uploads/2016/12/2017_AGM.gif
200
200
webmaster
http://www.afs-oc.org/wp-content/uploads/2014/03/afsoc-logo-long375-new.png
webmaster
2017-02-10 16:35:25
2017-02-10 16:35:25
2017 AFS-OC AGM Announcements