Welcome to the ONTARIO CHAPTER of the AMERICAN FISHERIES SOCIETY
We welcome any and all suggestions, links, news releases, events, announcements, job postings and contributions to the website and/or newsletter. Please forward to the Webmaster, Newsletter Editor or any member of the Executive Committee and we will ensure they are posted and/or distributed in a timely fashion.
What's New highlights the newest postings and our News page provides the latest news items relevant to Ontario's fisheries. Look to News & Events for upcoming community events, workshops, courses, meetings and conferences. Chapter members are encouraged to submit papers, presentations, posters or research for our Member Publications page and to check out the Members Area for newsletters, employment, training and educational opportunities. The Links page offers useful links for fisheries, natural resources, government, on-line journals, organizations/associations, software/apps and social media.
Ontario Chapter merchandise is available for purchase through the Online Store.
Annual Meeting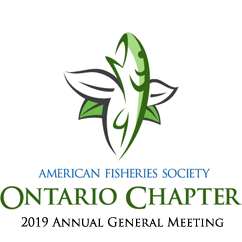 2019 Ontario Chapter Annual Meeting
February 28–March 2, Geneva Park, Orillia, Ontario
OFFLHD
Ontario Freshwater Fishes Life History Database
a fully searchable database for all Ontario and adjacent Great Lakes freshwater fishes including introduced, extirpated and extinct species
contains current information pertaining to life history, habitat, size and age, distribution, conservation status, ecological value, reproduction and nomenclature for 154 species, 3 subspecies and 2 established hybrids
includes photographs, range maps, notes, Ontario record lengths and weights, information sources, glossary of terms and related web links